Cookie Synchronizer (Chrome + Firefox extension)
---
Transfer your logged in forum accounts directly from your browser
Since we wanted to provide an alternative to entering forum account passwords on autobumper.io, we have developed an extension for Google Chrome and Firefox (in a minimalistic way*) which allows you to simply copy over an existing login session from your browser directly into autobumper.io. This means that you do not need to enter your forum account password anymore on our website! (however this functionality still remains available).
As an added bonus, the extension will also allow you to use forums which were previously unavailable due to login Captcha's.
You can now login on any of your forums in your browser, and once you are logged in, you synchronize the cookies using one button click so that your autobumper.io forum account can share the session and has the permission to post forum messages.
* The extension does not do anything unless you click the icon in your address bar and click "Synchronize", so your browser will never be slowed down and your data is in your hands.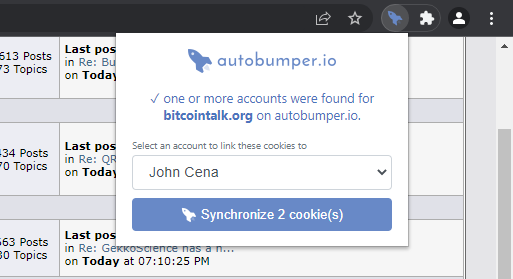 Example of the synchronization on a specific forum.
---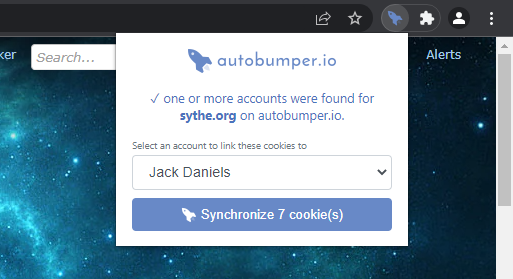 Example of synchronization on Sythe.org.
How-To Guide
Install the extension.
Go to the forum's website you want to use with autobumper.io.
Login to the forum in the Chrome/Firefox browser itself (or be logged in already). Note that you should check any "Remember me" options when logging in; this ensures the longevity of your login session.
Be sure you are logged in to autobumper.io as well in the same browser (the extension will ask you).
Open the extension button by clicking on the rocket icon in your browser menu bar.
Select your forum account from the list which should be prefilled with your forum accounts on autobumper.io.
Click Synchronize x cookie(s).
Your login status should now reflect immediately on autobumper.io and you're ready to automate posting!
---
Troubleshooting
Can't login? The plugin recognizes your login session on this website so it knows where to which account the plugin should synchronize. Try logging in and out of autobumper.io on a different browser tab and retry by opening the plugin.
You get 0 cookies? The plugin might be blocked from accessing cookies. Double-check your permissions for the plugin, since you might not have enabled them fully. Right-click the plugin icon or go to your browser's settings.